Since it's debut in May the Intrigue has already garnered interest and orders from customers and designers fascinated by the adaptable style and ample comfort of the new settee. With everything now out in the open we talked to Hildy about her inspiration for the Intrigue.
"You could say the Intrigue is unpretentious. It looks comfortable without being too flashy," says Kovacs designer Hildy Kovacs. "I wanted it to have clean lines and a classic style that would fit in with most interiors. And it needed to create options for the owner."
Hence the new adjustable headrest and seat depth of the Intrigue, the extension of the seat by up to 400 mm creating a big difference to the look and feel of the settee.
Answering the call for more adaptable pieces was a big focus during the research phase. The changing lifestyles of New Zealanders required alternatives to large imposing pieces.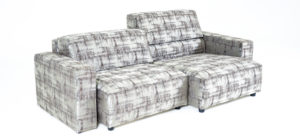 "We can't afford to be looking for too long in the rear-view mirror," says Hildy. "It's important to keep working on new ways of optimising space and style without compromising comfort."
It's this level of comfort that's non-negotiable in Kovacs design, and one carefully planned for in the design and construction of the original Intrigue prototype.
Quality foam is key to ensuring relaxation beyond the showroom. The bonded layered foam structure of the Intrigue delivers ideal support with a soft and sumptuous feel. The adjustable design also allows for some experimentation with the seating depth and height, new owners enjoying the chance to set Intrigue to a position suited to their unique shape.
Available as a 2.5, 3 and 3.5 seat settee, the design can fit into a huge range of rooms – a process made all the easier with how it compacts down for shipping and delivery.